Located in historic downtown Lakeville,
we make full-flavored, malt-forward beer that's approachable enough for anyone's palate.
Located on Holyoke Ave in downtown Lakeville, our taproom has an "industrial meets rustic" vibe, with a visible 7bbl brew system in back. That's where co-founder and head brewer Jon makes his Belgian-inspired brews—with his own twists. Leaning towards high gravity beers, he always tries to maintain a balance of flavor, tradition and craft.
The taproom itself offers a classic, clean cut homage to Minnesota past and present. The bar is constructed with the reclaimed mahogany from old Minnesota bleacher seats. Above the seating area, wagon wheel growler chandeliers showcase many of our favorite local breweries and shed light on a perfect night with friends or family. The dog-friendly patio offers a breath of fresh air, our custom-built cornhole boards and plenty of seating for you to enjoy your drink outside. Every corner speaks to the dream that the AiB founders shared for years..
Combine the beer with the taproom, and you've got the result of that dream since they started hosting tasting parties years ago. A brewery in a beautiful, historic downtown that serves great beer to great people.
CONTACT
AngryInchBrewing@gmail.com
LOCATION
20841 Holyoke Avenue
Lakeville, MN 55068
HOURS
Mon closed
Tue closed
Wed 2p–10p
Thu 2p–10p
Fri 12p–12a
Sat 12p–12a
Sun 12p–8p
*Special Hours/Changes will be listed in the Events section.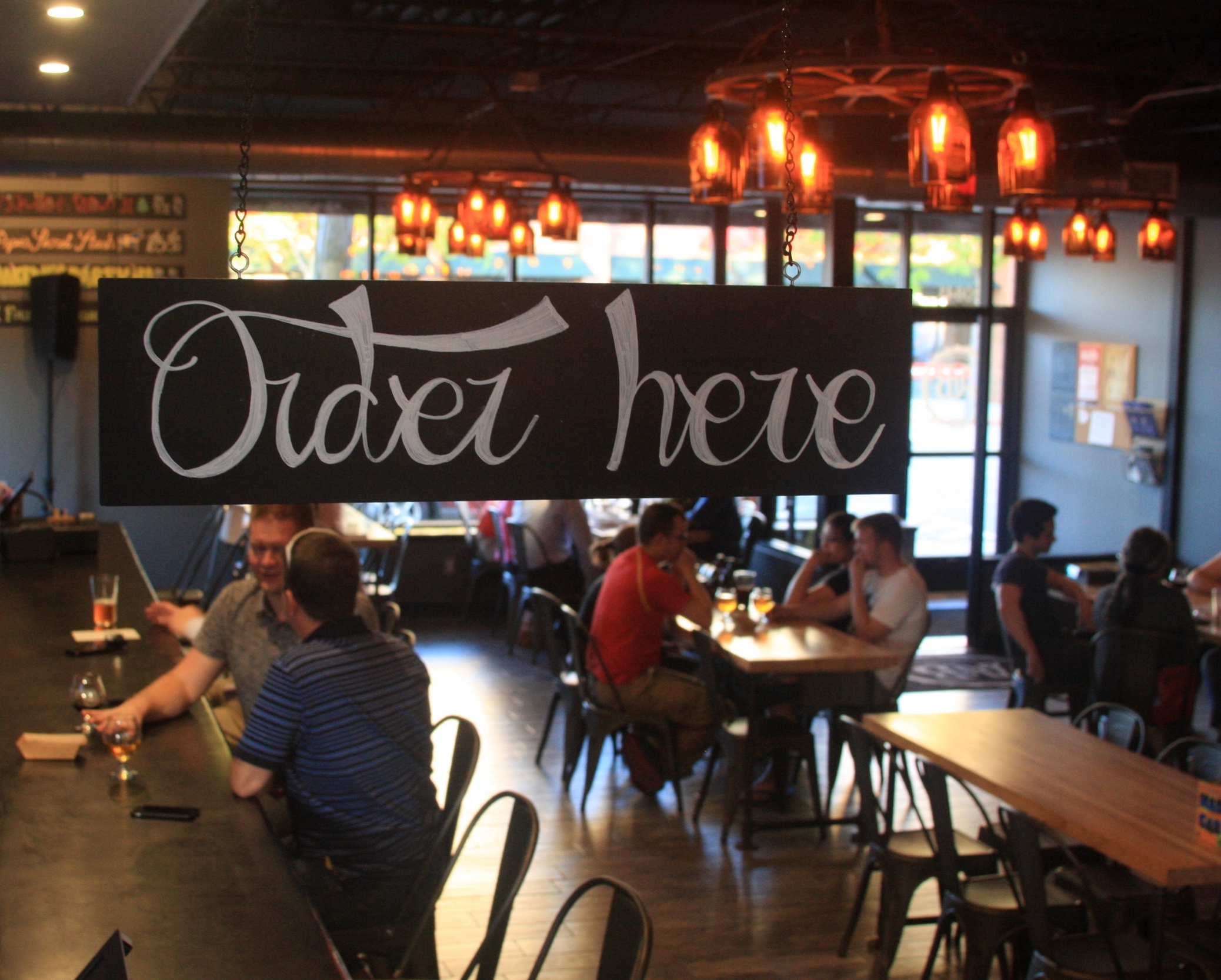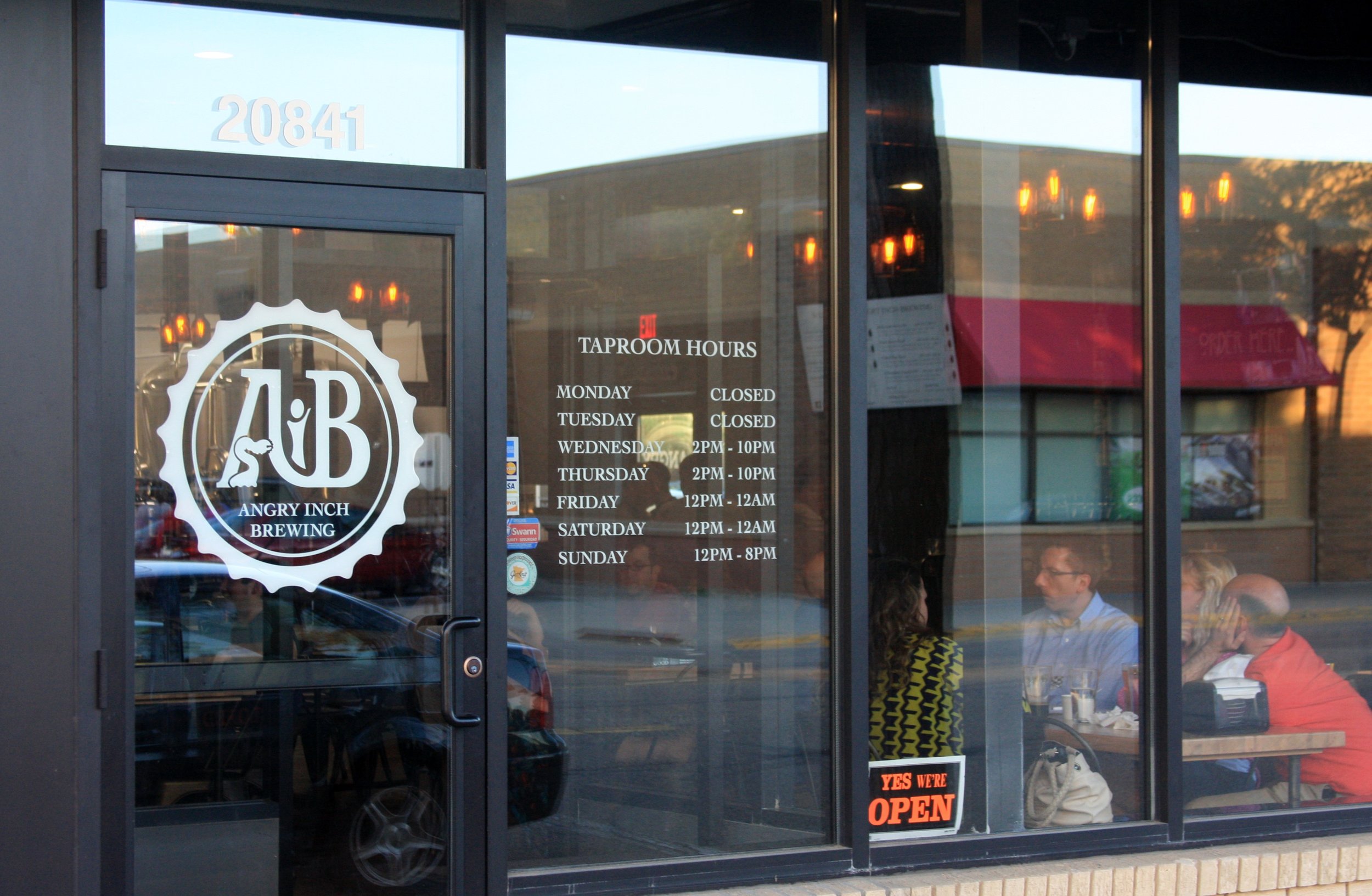 Here's what we currently have on tap. This list is correct 99.7% of the time.
FOOD:
We're big fans of food, but we don't serve any ourselves—other than the free popcorn. But if you're hungry, bring in your own food or order from any number of our wonderful neighboring restaurants. Food trucks that are scheduled to be at the taproom will be added to the calendar of events, see page below.
ANGRY INCH BREWING
THE STORY BEHIND THE NAME
"It all began with a game of charades gone terribly, terribly wrong" says Jon. During a riveting game of "Time's Up" (and while imbibing on a few of their home brews) Jon confused the children's book "The Very Hungry Caterpillar" for the 90's rock musical "Hedwig and the Angry Inch." Clearly confused, and unable to convince his partner in the game of the connection, it became a running joke that Jon thought "Hedwig" was a kids book, and while brewing in the garage one night the name Angry Inch Brewing was suggested, and it stuck!
JON ERICKSON
CO-Founder/ Head Brewer
With a background in biology and auto mechanics, Jon always figured he'd be fixing plant-based cars for a living. That was before he started home brewing back in 2011. When that hobby turned into something a whole lot bigger, Jon was able to combine his background with a passion for cooking and creating new recipes into a career as a head brewer.
Favorite AiB beer: Naked Hop Party (West Cost IPA)
CHRIS ERICKSON
Assistant Director of Sustainability
We offered him the title of Director, but he said that was too prestigious. Always maintaining an environmentally-forward thought process, Chris composts our hops and always pushes us to do what is right for the Earth. From installing all LED lights throughout the brewery, recycling every bit possible from the build out, donating our spent grains to a local farmer and reclaiming the groundwater we use to cool our wort, he drives us to be more ecologically minded every day!
Favorite AiB beer: Papa's Secret Stash (imperial coffee porter)
EVENTS
Taprooms should be fun and inviting! So consider yourself invited to the following fun:
Large groups & PRIVATE EVENTS
Large groups and party busses please message us on Facebook or email, if possible please give us at least 7 days advance notice.
Our email is:: angryinchbrewing@gmail.com
For private bookings please email us at angryinchbrewing@gmail.com with your event info and requested dates. Please note Friday's and Saturday's are not available for private rentals.
Yes! You can host private events at AiB. Weddings, rehearsal dinners, corporate events, presentations, campaign parties; whatever the occasion or the event we can accommodate you. Fill out the Contact Us form below. or email us about dates and availability at: angryinchbrewing@gmail.com.
Our goal is to always be giving back to our community. Contact us for your organized charitable events. We are limited to number of events we can attend each year therefore we consider each event carefully.
LOCATION
20841 Holyoke Ave
Lakeville, MN, 55044
United States
Parking lot in back and free off street parking available.
Contact Us
Have a question, comment, concern or just want to talk about beer? Send us a message and we'll get in touch. We don't have a phone number, so email and social media are the best ways to reach us.